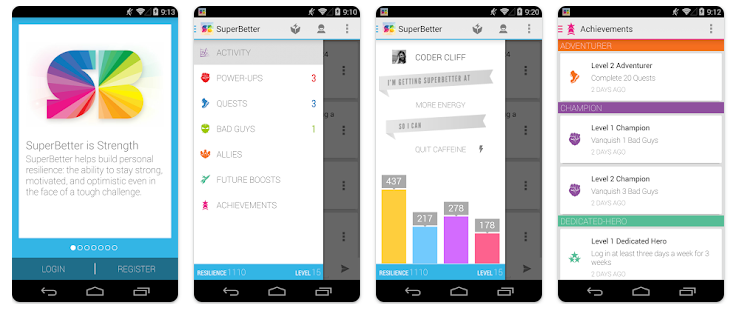 Everyone has heroic potential.
Join over 1 million people who have played SuperBetter to improve their resilience, mental health and social emotional learning.
SuperBetter builds resilience – the ability to stay strong, motivated and optimistic even in the face of life's challenges. Playing SuperBetter unlocks heroic potential to overcome tough situations and achieve goals that matter most.
SuperBetter was invented by world-renowned game designer Jane McGonigal. Its unique methodology uses the psychology of game play to build life skills, overcome obstacles & achieve greater success in all areas of life.
Why play SuperBetter?
Here are some reasons people use SuperBetter:
– To adopt a new habit, learn or improve a skill, strengthen a relationship, make a physical or athletic breakthrough, complete a meaningful project, or pursue a lifelong dream.
– To beat depression, overcome anxiety, manage stress, cope with chronic pain, or heal from a concussion or other physical injury,
– To overcome a life challenge like dealing with a school setback, finding a new job, surviving divorce, or grieving a loss.
– To help others – teachers use the SuperBetter methodology to promote social-emotional learning, therapists refer the SuperBetter app to their patients.