Overview
Good mental health helps you to feel happy and enjoy life. It supports you to cope with problems and feel ready to learn and try new things.
Looking after your mental health is important at all stages of your life however from time-to-time life can be challenging and this can make it hard to know how to cope.
Different experiences like changing schools, losing someone you love, being bullied, or changes at home can be difficult to cope with and can have an impact on your mental health and wellbeing. You may start to feel not quite like yourself anymore, experience sadness, feel overwhelmed or find it difficult to relax. It is normal to feel this way sometimes however if these feelings continue it is important that you look after yourself and speak to somebody about how you are feeling.
Supporting Yourself
Sometimes it can feel uncomfortable talking about how you are feeling or asking for help but not doing anything at all can make you feel a lot worse later. If you aren't quite ready to speak to someone you know there are a number of anonymous online support services available.
Staying connected and talking about how you are feeling is important however there are other things you can do to look after your mental health.
Eat well:
Let's talk about food. Food is your body's fuel and eating well plays an important role in looking after your brain, improving your energy levels, and regulating your mood. As a bonus, eating the right food can also help in the prevention and treatment of physical and mental health issues.
If you aren't quite sure what foods are best for your body speaking to a nutritionist or dietician can be helpful.
And don't forget to drink plenty of water. If you aren't staying well hydrated you may experience headaches, feel low in energy, feel thirsty often or have difficulty concentrating.
Sleep:
Making sure you are getting enough sleep is important. Consistent good quality sleep has been shown to have physical, cognitive, and emotional benefits such as helping you to stay focused throughout the day, improving your mood, and restoring your energy.
Not getting enough sleep can make you feel tired and cranky, lose motivation, and become forgetful. And in the long term, lack of sleep can impact any feelings of stress or symptoms of anxiety or depression that you may be experiencing.
It is important to set healthy sleep habits for yourself. Here are a few suggestions to help you have a good night's sleep.
Get active, a little exercise each day can help you to use up any extra energy.
Avoid drinking caffeinated drinks before bed. Replace these with a warm glass of milk or a decaffeinated tea.
Limit your screen time before bed. Let's be real you probably have a mobile phone or device in your bedroom at night, and it is easy to get caught up scrolling online or binge-watching your favourite program. If you are having trouble getting to sleep, try to turn off your screen at least 60 – 90 minutes before you plan on going to bed. You could use this time to read a book or magazine, write in a journal or take a warm shower.
It may sound like an obvious one but go to bed when you feel tired. Don't force your body to stay awake longer than it wants to but also don't go to bed when you aren't ready. Listen to your body.
Listen to guided meditation. There are plenty of apps that can help with focusing on breathing and relaxation both of which are great for unwinding and settling in for the night.
Exercise:
Staying active can have great health benefits to your body not only physically but socially and mentally too.
It may come as a surprise, but regular physical exercise helps to give you energy. It's also a great way to manage stress and feelings of depression as well as help you to get a good night's sleep.
If you aren't normally a physically active person simply doing 30 minutes of exercise a day is a great place to start. Try going for a walk with your dog, jogging, or swimming a few laps at the local pool after school a couple of times a week.
If you enjoy being around others, team sports are a great way to meet new people as well as support good physical health. If being in a group setting makes you feel anxious team sports can be confronting however being part of a team can help you to build confidence and make new friendships.
If you would prefer to start working on your fitness goals somewhere a little more private there are countless YouTube videos and apps available from step counters to workouts designed by personal trainers and fitness influencers.
Self-Talk:
Be kind to yourself. If you notice yourself thinking unhelpful thoughts or your inner voice has become negative and is getting you down take a moment, reset.
Ask yourself a few questions:
Is thinking this way helpful? Is it making me feel good, angry or sad?
Are my thoughts and what I am feeling based on facts or my interpretation of something that has happened?
Do I think this way a lot?
What can I do to help me solve the issue? Is there something I can change or learn?
What makes me feel good? Going for a walk, listening to music, spending time with family or friends?
Put pen to paper. Writing down thoughts and feels can provide a space for reflection.
Supporting another person
If someone close to you is experiencing a mental illness it can feel very confusing and worrying at times. Whether you have noticed a change in your parent, another family member, or a close friend remember that their becoming unwell is not your fault however there are a few things you can do to support them during this time.
Staying connected and talking about how you are feeling is important however there are other things you can do to look after your mental health.
Educate yourself:
Researching mental health conditions can help you understand a little more about what your loved one is experiencing. Mental health is quite complex and mental illness can impact people differently. Educating yourself and learning more about what signs to look for can be helpful not only to you but your loved one also.
Encourage the person to get help:
Supporting someone to get their mental health back on track is not entirely up to you. Letting your loved one know that you are there for them and are willing to learn with them can be helpful however it is also important to encourage them to seek help.
There are many services available to support people to improve their mental health and a great place to start is their General Practitioner (GP). Support offered by a GO can vary from discussing how they have been feeling, referring your loved one to a specialised health service, or in some instances, providing medication. However, it is important to remember that if you feel that you or your loved one is in immediate danger you should call emergency services on '000'.
Don't forget about yourself:
It is great to encourage others to seek support but don't forget about yourself. Services such as Kids Helpline and Headspace offer online and phone counselling services which can be helpful when you are supporting someone experiencing mental illness. If the person you are supporting
is your parent, Children of Parents with a Mental Illness also know as (COPMI) is a great resource where you can learn more about mental illness, supporting your loved one and getting advice from other young people who are going through the same thing.
Where to get help
Online support
Online Learning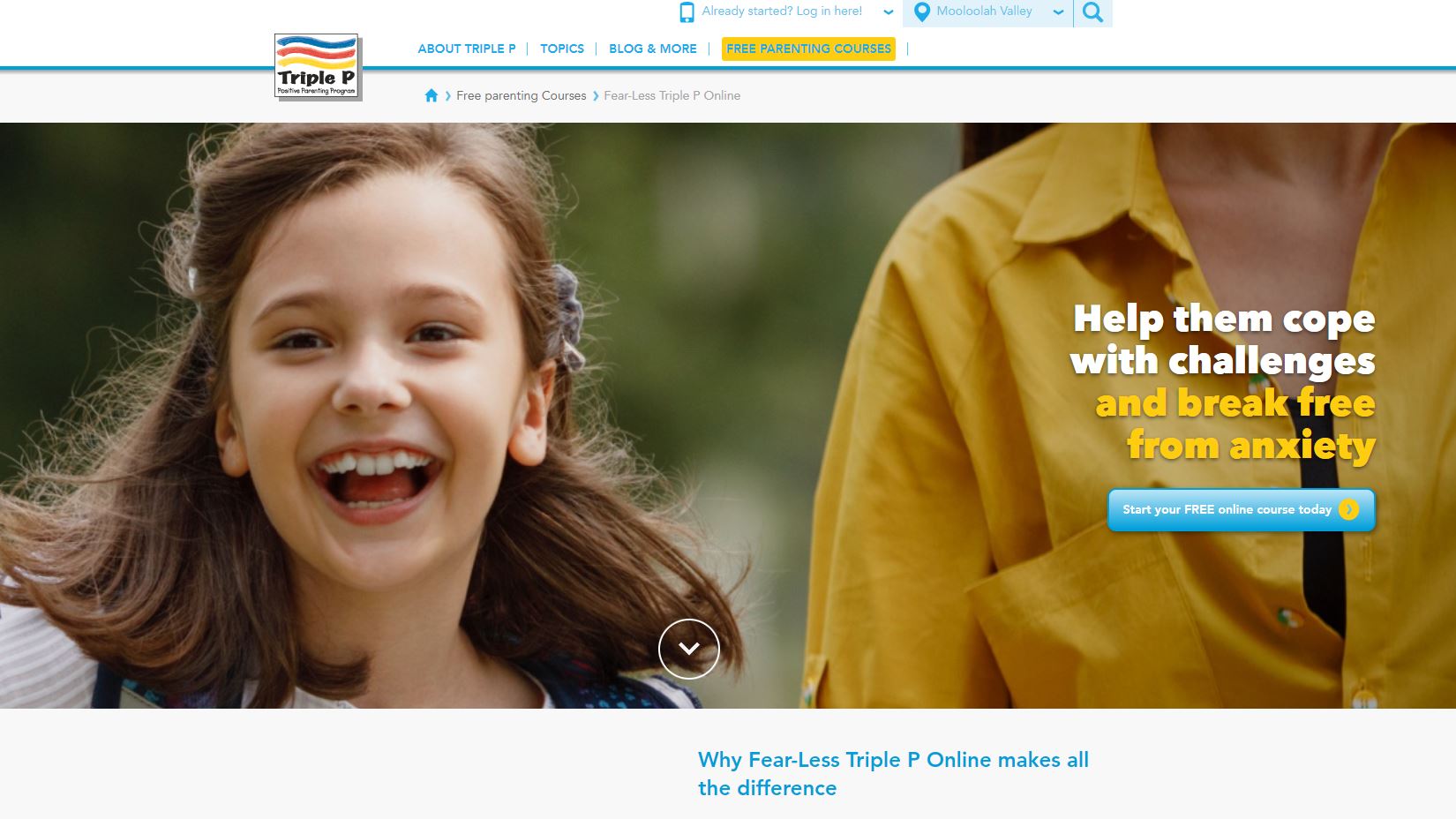 Help your child manage anxiety and become more emotionally resilient...
Read more
How we can help
If you or someone you know is in crisis
If you are worried you may harm yourself or someone else, or need immediate help for someone else in this situation:
Please call 000
If you are in distress
Please select a state you live in
**** *****
**** ***** * *********** *********** ***
**** ***** *****
**** *****
**** ***** * *********** *********** ***
**** ***** *****
**** *****
**** ***** * *********** *********** ***
**** ***** *****
**** *****
**** ***** * *********** *********** ***
**** ***** *****
**** *****
**** ***** * *********** *********** ***
**** ***** *****
**** *****
**** ***** * *********** *********** ***
**** ***** *****