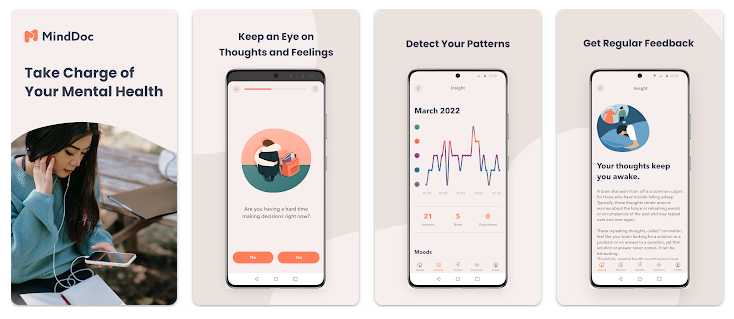 Top mental health app with over 3,000,000 downloads and 4.7 stars out of 26,000+ reviews.
Developed by clinical psychologists in close collaboration with leading researchers for those who want to learn about emotional well-being or who suffer from mild-to-moderate mental illness including depression, anxiety, insomnia, and eating disorders.
MINDDOC ALLOWS YOU TO
Log your mental health and mood in real-time.
Get insights and summaries on your symptoms, behaviors, and general emotional well-being to help you recognize patterns and find the best resources for you.
Discover our library of courses and exercises to help you on your journey toward emotional well-being.
ABOUT MINDDOC
MindDoc is a leading monitoring and self-management app for promoting emotional well-being and coping with such mental illnesses as depression, anxiety, insomnia, and eating disorders.
MindDoc can be used by itself for prevention or self-help, or as a part of treatment with a mental health practitioner.
Our questions, insights, courses, and exercises have been developed by clinical psychologists and are aligned with international treatment guidelines for mental disorders.